Falken Avionics
Falken Avionics is the maker of the FlightView EFIS, and the FlightBox line of ADS-B receivers. Falken is dedicated to the idea that advanced, safety-enhancing aviation technology should be available to every pilot and aircraft owner. We leverage off-the-shelf components, open source software platforms, advanced mobile technology, and modern manufacturing processes to produce powerful solutions at a fraction of the price of our competitors.
History
Falken, originally called Open Flight Solutions, launched in January of 2016 with a Kickstarter campaign to fund the development of our original FlightBox product – a "quick-build" kit for the Stratux open source ADS-B receiver. The FlightBox kit included all of the parts necessary to assemble a working Stratux receiver. Users were guided through the assembly and testing process by a video tutorial. The Kickstarter was overwhelmingly successful (over 700 kits pre-ordered) and quickly went from side-venture to full-time job for company founder Steven Sokol.
Over the next two years, Open Flight refined the FlightBox product and began offering fully assembled, ready-to-run systems.  In 2017, Open Flight created, funded, and promoted an open source "bounty" to add AHRS capabilities to Stratux. 2017 also saw the launch of FlightBox Pro, the first complex electronic device to receive FAA NORSEE approval. In the first two years of business, Open Flight sold over 3500 FlightBox and FlightBox Pro systems.
More recently, Open Flight focused on expanding the capabilities of the FlightBox Pro system. This expansion became the core of the FlightView EFIS, the first full-featured flight information system to use off-the-shelf tablets (Apple iPads) as the display. Development of an iPad EFIS application took place in parallel with the hardware design.
People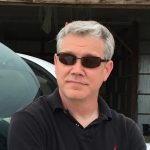 Falken Avionics founder Steven Sokol is a software engineer, private pilot, and serial entrepreneur. He spent more than twenty years in the telecommunications industry, first as a developer, and later as a product manager and marketing director.
In 2013, Sokol earned his private pilot's license. In 2014 he served on the ASTM committee that drafted a new standard for the verification of software in aircraft systems, a key milestone in the effort to modernize the FAA's avionics approval process. In 2016 he combined his aviation and electronics interests to found Open Flight Solutions. In June of 2016 he left his previous position as entrepreneur-in-residence at Digium to work full-time on Open Flight.
Steven and his wife Amy live and work in Cedar Park, Texas – a suburb of Austin. He flies an RV-6A.