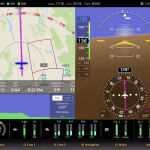 Flight Instruments + Engine Instruments + VFR Navigation
FlightView is a new EFIS that raises the bar on safety while dramatically lowering costs. [Learn more…]
Weather + Traffic + GPS + AHRS + Altitude
FlightBox Plus provides all of the features of FlightBox-ADS plus attitude (AHRS) and barometric altitude. [Learn more…]
Weather + Traffic + GPS + AHRS + Altitude + FAA Approved
FlightBox Pro offers all the features of FlightBox Plus, but is built and FAA approved for permanent installation in certified aircraft. Ideal for Part 135 operators, air ambulances, and any situation where permanent installation is preferred.
[Learn more…]
FlightBox Accessories
Remote ADS-B Antenna Mount Kit – The remote antenna mount allows you to place your FlightBox someplace cool and secure while not compromising on ADS-B reception.
Serial Data Interface Cable – Connect your FlightBox system to your experimental or light sport EFIS.
Remote GPS Antennas – Add WAAS GPS capabilities to your FlightBox or FlightBox Plus system. Use the Remote USB GPS with FlightBox and the Remote Powered GPS Antenna with FlightBox Plus.