Weather • Traffic • WAAS GP • Attitude • Altitude
ADS-B receiver makes flying safer and more efficient by providing real-time weather, traffic, TFRs, and other flight data to your Apple or Android tablet.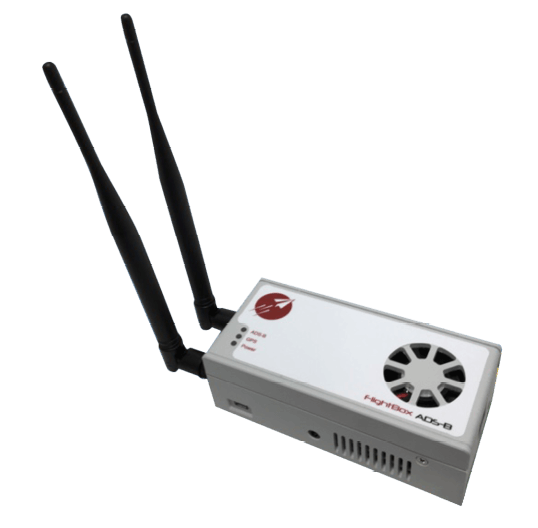 ADS-B Receiver for Everyone
FlightBox is a value leader. Built from off-the-shelf hardware and open software it provides all the safety-enhancing features while costing much less than proprietary ADS-B receivers.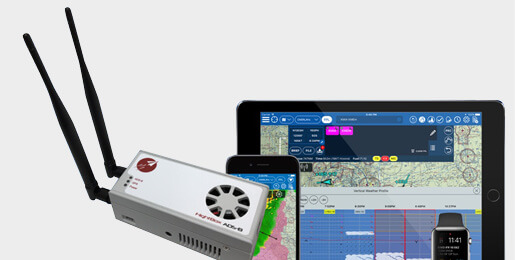 FlightBox works with most EFB applications including Aerovie (pictured).
FlightBox ADS-B
The base model FlightBox ADS-B system offers in-flight weather, traffic, and GPS information to your favorite EFB application. You can select an internal or remote-mount GPS receiver.
FlightBox Plus
FlightBox Plus adds attitude (AHRS) and barometric altitude sensors which drive attitude, PFD and synthetic vision features in many EFB applications.
Key Features
Subscription-Free In-Flight Weather
ADS-B Traffic
WAAS GPS
Attitude (AHRS)*
Barometric Altimeter*
Works with most aviation apps
Expandable/upgradeable
ADS-B Weather Features
NEXRAD radar (regional and CONUS)
METARs
TAFs
Winds/Temps Aloft
AIRMETs
SIGMETs
PIREPs
Additional FIS-B Products
TFRs
NOTAMs
SUA (Special Use Airspace) activity
Traffic System Features
Receives direct ADS-B and uplink ADS-R/TIS-B targets
Receives on both UAT and 1090-ES bands (with dual-band option)
Traffic Target Information
Location (latitude/longitude/altitude)
Heading
Ground speed
Vertical speed
Identity (ICAO, Registration)
GPS Features
Own-Ship location (latitude/longitude/altitude)
Ground speed
Ground track
Vertical speed
Attitude (AHRS) Features*
Pitch
Roll
G-force
Slip/skid
Altimeter Features*
Pressure altitude
MSL altitude (requires offset by application)
Vertical speed
FlightBox works with most EFB applications including Aerovie (pictured).
APPS
The following EFB applications have been tested with FlightBox:
| EFB | ADS-B Traffic & Weather | GPS | AHRS |
| --- | --- | --- | --- |
| Aerovie | | | |
| Avare | | | |
| AvNav | | | |
| AvPlan EFB | | | |
| Droid EFB | | | |
| FltPlan Go | | | |
| FlyQ EFB | | | |
| ForeFlight | | | |
| iFly GPS | | | |
| Naviator | | | |
| Oz Runways | | | |
| SkyDemon | | | |
| True Flight | | | |
| WingX Pro | | | |
| Xavion | | | |
If you have a favorite EFB or navigation app that's not listed, let us know. FlightBox is not currently compatible with Garmin Pilot or Jeppesen Mobile FliteDeck/FliteDeck Pro.
SPECS
ACCESSORIES
FAQ
Requirements
To use FlightBox, you will need a tablet or smartphone and an Electronic Flight Bag (EFB) application that can display ADS-B traffic and weather information. Please see the "Apps" tab for a list of EFB applications and the FlightBox features they support.
We highly recommend using a recent-generation tablet or smartphone. Many older devices do not have the processing power to support all the features available in today's EFB applications.