For Experimental and Light Sport Aircraft
A complete operating system for your aircraft: Flight instruments. Engine instruments. Situational awareness. Remote interfaces with autopilots, transponders, and COM radios.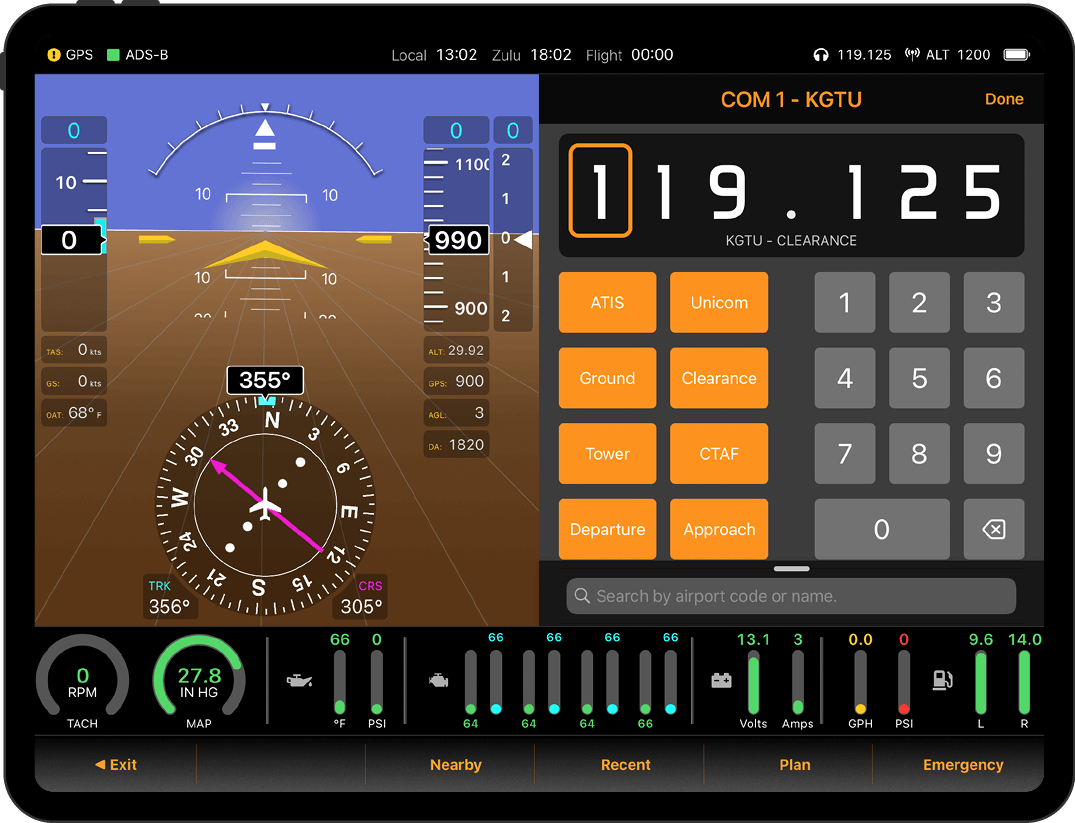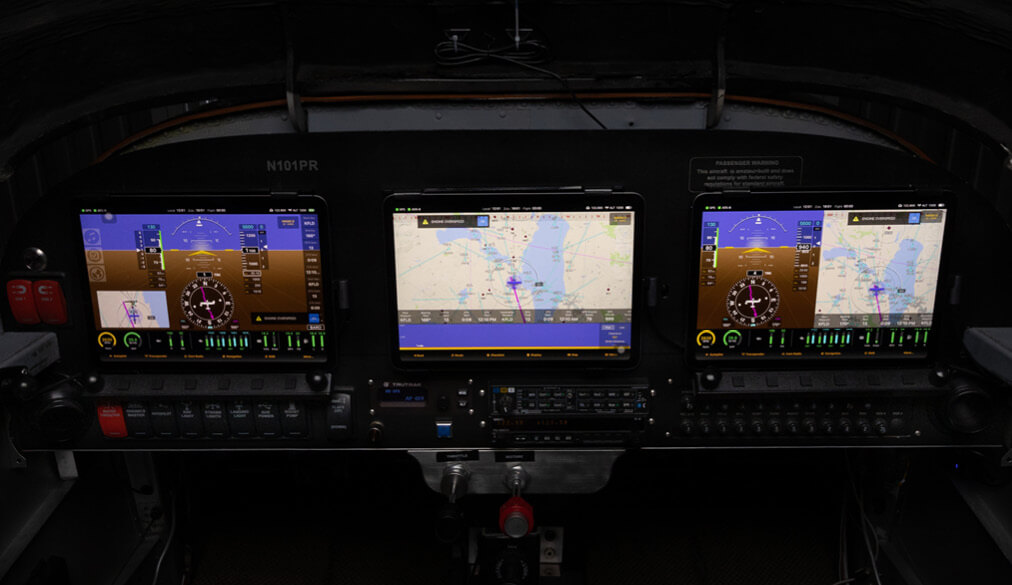 Primary Flight Display (PFD) uses a modern tapes-and-pointers layout to display attitude, airspeed, altitude, coordination.
The Engine Monitoring System (EMS) tracks and displays over 30 separate parameters, keeping your power plant operating at peak performance.
Moving Map Navigator (MFD) includes airspace, traffic, and ADS-B weather information plus terrain awareness tools.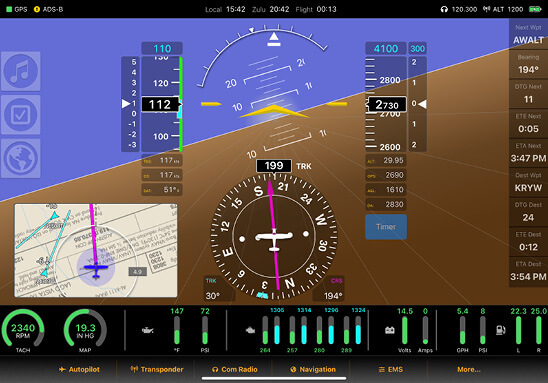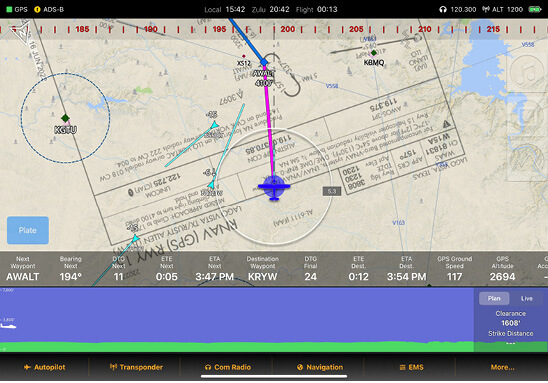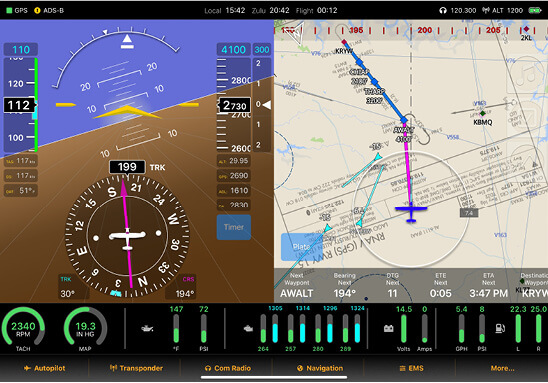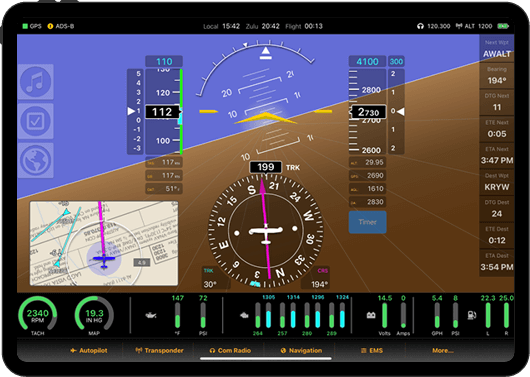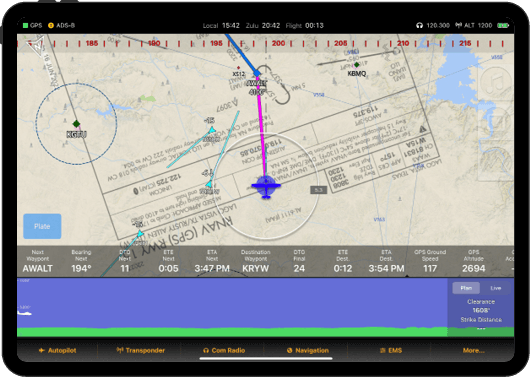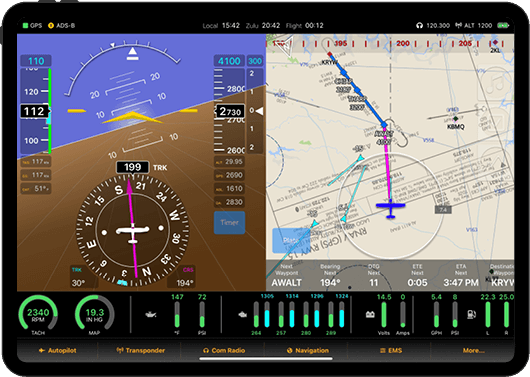 Digital Flight Deck iPad App
Convert any modern iPad into a state-of-the-art, touch-screen digital flight deck with Primary Flight Display and Moving Map Navigator
Complete Instrumentation: The app includes a PFD with a full set of flight instruments, a detailed moving map for VFR navigation and situational awareness, an engine status display, and easily accessible secondary screens for COM radio, transponder, autopilot, and flight planning.
Screen Layouts: The app supports multiple layouts — full-screen PFD, full-screen MFD, and split screen. The engine data bar can be toggled on and off. Each iPad can be assigned a primary function (PFD or MFD) and a primary side (left or right). In split-screen mode the app protects the primary content on the primary side, ensuring that the user always has a clear view of the most important information.
Compatibility: Works on all current iPad models from Mini to the 12.9″ Pro running iOS 13 or later.

Updates: Software updates are pushed automatically through Apple App Store. Updates to other components (e.g. FlightView FDC firmware) are automatically downloaded from Falken's servers and can be installed directly from the app.
A Network of Advanced Components Supplying Flight, Engine, and Situational Data
The core components — Flight Data Computer and Engine Monitoring System — are lightweight and easy to install/connect using pre-built harnesses provided with the kit. The system also includes interfaces to a growing list of third-party equipment, including communications radios, transponders, and autopilots.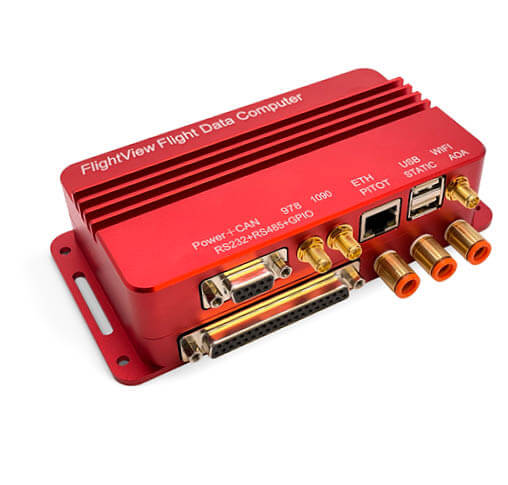 Fight Data Computer (FDC)
The FDC is the core of the system. It serves as a hub, relaying data between the other system components. Displays connect using Ethernet or Wifi. Peripheral devices interface using RS-232, RS-485, CAN bus, or USB. A powerful multi-core processor allows it to drive up to three FlightView displays and up to three additional Electronic Flight Bag (EFB) applications. FDC functions include:
Air Data (Pitot, static, AoA, OAT)
AHRS Inertial Measurement Unit
VFR Navigation System
WAAS GPS Receiver
Dual-Band ADS-B Receiver
Wifi Access Point
Ethernet Interface
Dual CAN bus interface
9 RS-232 Serial Ports
2 RS-485 Serial Ports
10 GPIO Ports
Remote control drivers for autopilots, VHF COM radios, transponders
Installation: Simply connect it to the ship's power, connect peripheral devices, and attach ADS-B antennas. The process is quick and easy and most homebuilders can complete it in just a few hours. Pitot, static, and AoA connections are standard 1/8″ NPT female and can easily be adapted to any commonly-used PEX tubing size.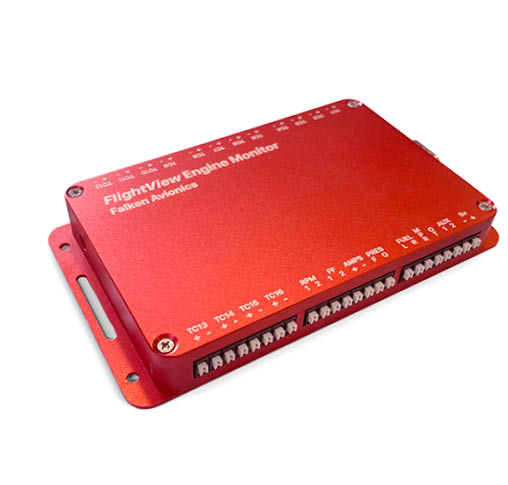 Engine Monitoring System (EMS)
The EMS uses standard engine probes to monitor more than 30 different engine data parameters. It includes interfaces for engine speed (RPM), manifold pressure, oil pressure and temperature, fuel pressure, fuel flow, and fuel level (2 tanks), voltage, amperage, and 16 thermocouple amplifiers for EGT, CHT, TIT. Two auxiliary analog inputs are available for user-selected functions including header tank level, gearbox temperature, liquid coolant temperature, flap setting, and trim setting.
Installation: Instead of complicated wiring harness, all sensor connections are made using industrial spring clip connectors. Simply push the wire (optionally with a tip ferrule) into the appropriate port. To release, press the button to release the spring clip and pull. This makes both installation and maintenance a lot easier.
Falken's unique mounting and cooling system and intuitive tactile controller keep your displays running in even the most challenging of conditions.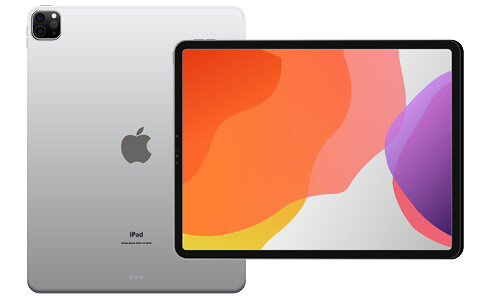 Copyright © 2022 Apple Inc. All rights reserved.
FlightView EFIS supports up to 3 Apple iPads. Our innovative FlightDock and FlightBar make great tablets into world-class flight displays.
Installation: FlightDock quickly and easily installs on the front of your instrument panel or on a RAM mount. Installing and removing the iPad is even easier.
Active Cooling: FlightDock's cooling system is thermally controlled, blowing a constant stream of air at low volume when things are cool, and blasting the iPad at high speed when things get hot.
Real Controls: FlightBar adds a set of real knobs and buttons, allowing easier operation in turbulent conditions. Each FlightBar connects to its assigned iPad using Bluetooth connection.
Add an iPad, or Two, or Three
Falken Ready-to-Fly kits cut installation time and complexity by including nearly everything you need to fly, including the iPads.
FlightView Features and Functions
Flight Instruments
Altimeter
Airspeed Indicator
Attitude Indicator
Slip/Skid Ball
Heading Indicator (HSI)
Ground Track
Course Pointer
Course Deviation Indicator
Outside Air Temperature
True Airspeed
Density Altitude
Ground Speed
GPS Altitude
AGL Altitude
Local and Zulu Time
Flight Duration
Engine Instruments
Engine RPM
Manifold Pressure
Oil Pressure
Oil Temperature
Cylinder Head Temperature (CHT)
Exhaust Gas Temperature (EGT)
Voltage
Amperage
Fuel Level (Left / Right / Header)
Fuel Pressure
Fuel Flow
Coolant Temperature
Carburetor Temperature
Turbin Intake Temperature
Propeller RPM
Fuel Totalizer
Leaning Assistant
User-defined sensors
Safety / Convenience Features
Automatic Day / Night Mode
Automatic Altimeter Updates (ADS-B)
Timer With 1 Minute Tone
Situational Awareness
Air Traffic (ADS-B)
Traffic Alert
NEXRAD Weather Radar (ADS-B)
Airport METARs (ADS-B / Internet)
Terrain Profile View
Terrain Alert / Warning
Airspace Map Display
Current/Upcoming Airspace
Runway Assistant
Fuel Tank Switch Reminder
Engine Anomaly Alert
Runway Incursion Alert
Descent Rate Alert
Airspeed Decay Alert
Altitude Alert
Unusual Attitude Alert
Analog Video Display (Taxi-Cam)
IFR Training / Backup
RNAV (GPS) Approach Plates
RNAV (GPS) Procedures
Plate-On-Map Display
VFR Navigation
Moving Map
Nearest Airport Navigation
Direct-To Navigation
Flight Plan Navigation
Airport Diagrams
Database of US Airports, Navigation Aids, Waypoints
NMEA output to popular autopilots
ETA/ETE estimator
Automated waypoint / destination briefing
VHF Communications
Remote control of:

Trig TY91 / TY96
Garmin GTR200 / 200B
Garmin SL30, SL40 and compatible

Nearest airport frequency
Flight-plan airport frequencies
Recent frequencies
One-touch for active airport
SYSTEM
SPECIFICATIONS
ACCESSORIES
SYSTEM
Apple iPad tablets serve as the flight displays and run the FlightView application. They can be configured to display PFD, MFD (map), and EMS (engine monitor) data in either a full or split-screen configuration.
iPad displays connect to the Flight Data Computer using WiFi or Ethernet.
Falken's unique FlightBar accessory allows for easier operation in turbulent conditions. Each FlightBar connects to its assigned iPad using Bluetooth.
The Flight Data Computer acts as the hub for the system, routing data between all the components. It includes a dual-band ADS-B receiver, air data inputs, and the AHRS sensors for calculating attitude.
An optional ARINC 429 adapter allows FlightView to interface with IFR approved navigation systems.
FlightView supports a growing list of third-party peripherals including: autopilots, COM radios, transponders, ELTs, and UAT ADS-B transmitters.
New devices are being added on a regular basis.
SPECIFICATIONS
ACCESSORIES