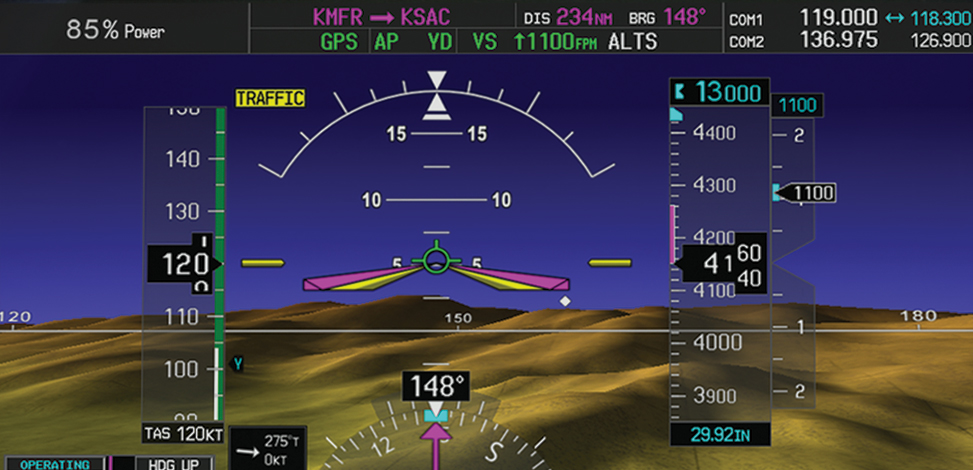 Synthetic vision display.
TL;DR – A new FlightBox update is available that adds AHRS support for ForeFlight and GPS NMEA output over RS232.
Introducing v1.4r4
Welcome to the middle of winter. Things have been rather quiet for the past couple of months, which has allowed us to spend some time heads-down on new features and functions. First among those is AHRS support for ForeFlight*. This has been the number one request since we rolled out the original AHRS support back in March of last year.
The update is available for download from our site or for installation using the FlightBox Utility app. New systems ordered after February 14 will ship with 1.4r4 installed. The code has seen quite a bit of testing from the Stratux community, so it should be smooth sailing under most circumstances.
A few notes on the FF AHRS feature:
Web Interface – To get […]
UPDATE: FlightView EFIS Is Now Available
For the past two years Falken Avionics has been building and selling the FlightBox line of ADS-B receivers. From the beginning we envisioned FlightBox as the starting point for a much broader set of product intended to reduce costs while increasing safety. While we're not quite "there" yet, we're getting close, and I believe this is a good time to share the high-level vision with the aviation community.
In the next several months we will be releasing a set of components that allow homebuilders and LSA manufacturers to assemble a full-featured EFIS with high resolution touch display, precision air data and attitude sensors, comprehensive engine monitoring, WAAS GPS, and dual-band ASD-B for around $2000. Rather than taking the traditional monolithic approach, we're creating a distributed, optionally redundant network of independent components that provide the full EFIS feature set at a lower price and with greater reliability.
We […]