UPDATE: FlightView EFIS Is Now Available
For the past two years Falken Avionics has been building and selling the FlightBox line of ADS-B receivers. From the beginning we envisioned FlightBox as the starting point for a much broader set of product intended to reduce costs while increasing safety. While we're not quite "there" yet, we're getting close, and I believe this is a good time to share the high-level vision with the aviation community.
In the next several months we will be releasing a set of components that allow homebuilders and LSA manufacturers to assemble a full-featured EFIS with high resolution touch display, precision air data and attitude sensors, comprehensive engine monitoring, WAAS GPS, and dual-band ASD-B for around $2000. Rather than taking the traditional monolithic approach, we're creating a distributed, optionally redundant network of independent components that provide the full EFIS feature set at a lower price and with greater reliability.
We plan to seek NORSEE approval for these components, allowing them to be installed in certificated aircraft to facilitate better situational awareness and to serve as a backup to legacy instruments.
Please take a few minutes to look over the preview below and let us know what you think. If you're interested, please sign up for our FlightBox EFIS mailing list. Feel free to send your thoughts and questions directly to info@falkenavionics.com.
Overview
---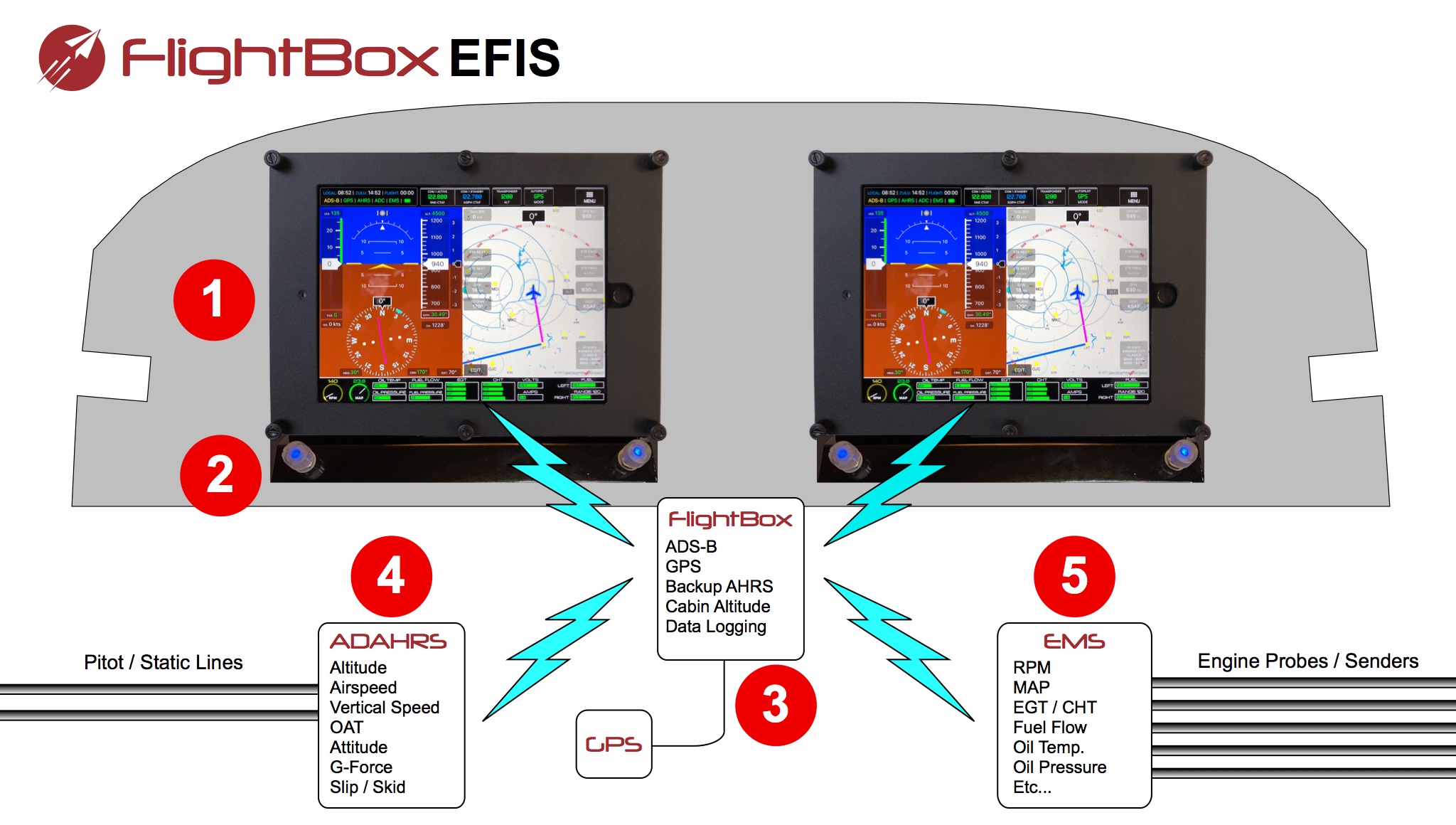 The displays (1) are Apple iPads running an EFIS application that we've developed. The displays interface with other components (and with each other) via the wireless network created by the FlightBox (3). Expanding from a single display to a dual display is simply a matter of adding a second iPad.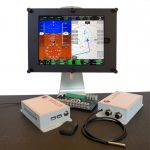 The FlightBox (3) acts as a hub, relaying data between the displays and the other components in the network. It also serves as a bridge to third-party systems including autopilots, COM radios, and transponders. In a fully redundant configuration, the aircraft is outfitted with two FlightBox units, one serving as the primary flight computer, the second as the backup.
The ADAHRS (4) uses a set of solid-state (MEMS) sensors to generate attitude and air data. We support single or dual ADAHRS configurations. The EMS (5) connects with a full set of engine probes and relays engine data to the FlightBox and displays. Both the ADAHRS and EMS feature builder-friendly installation, with simple, rugged connections and no complicated wiring harnesses.
Display Hardware (1)
---
Other EFIS vendors put a good deal of effort into building custom display hardware. We've decided to take a different approach and leverage the significant engineering expertise of Apple. The current line of iPads is powerful, light weight, bright and has been road tested over the past decade by literally millions of users. It's also much less expensive than a custom display, with a starting street price of only $279.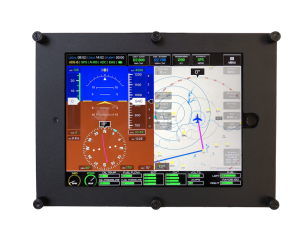 We've overcome the iPads's one major limitation – heat – with a light weight panel mount that includes thermally controlled active cooling. Made from the same FAA-approved plastic as our FlightBox, the mount is strong but still weighs in at less than one pound. A set of six thumb screws hold the face place securely, but allow you to swap iPads in a matter of seconds. It includes secure, recessed spaces for a Lightning power connector (included) and for a low-profile audio connector (optional). It provides access to the sleep (power) button, the home button, and the front-facing camera.
We currently have a mount for the 9.7" iPad. We're in the process of designing mounts for the 10.5" iPad Pro and the 7.9" iPad Mini. If there's any demand, we will also build one for the 12.9" iPad Pro.
Functions:
9.7″ Retina touch display
Active cooling
Field swappable
Display Software (1)
---
The FlightBox EFIS application currently provides all of the basics required for VFR flight: a complete set of flight instruments; a moving map with a database of US airspace, airports, and nav-aids; power plant instruments, and VFR navigation. The primary goals for the first release are usability and stability. We'll add the bells and whistles  in upcoming releases.
The app is currently in private beta (internal testing). The first version is scheduled to be released in the March / April timeframe. The app will be free with in-app purchases for maps, charts, and some advanced features.
Functions:
Primary Flight Display (PFD)

Altitude
Airspeed
Attitude
Heading (HSI)
Vertical Speed
Slip / Skid

Moving map
US aviation database
VFR navigation

Nearest
Direct-To
Waypoint
Autopilot output (via FlightBox)

Weather
Traffic
Audio alerts
Engine monitor
COM radio control
Transponder control
Music player
Turbulence Tactile Interface (2)
---
One of the greatest advantages of the iPad is its multi-touch interface. Unfortunately, turbulence can make a touch-screen difficult to use. To overcome that limitation, we've designed a secondary "twist-and-click" user interface we're calling the Turbulence Tactile Interface or TTI. This optional device adds two rotary encoders (aka "knobs") which connect to the iPad using Bluetooth. In smooth air, use the touch screen. In the bumps, use the knobs.
We have a working prototype of the TTI and are in the process of revising that into a marketable product. We should have pricing and an estimated availability date by mid-March.
Functions:
Navigation (twist)
Selection (click)
Setting adjustment
Zoom
FlightBox (3)
---
FlightBox continues to act as an ADS-B and GPS receiver, but it picks up some additional duties. We use it to relay data and commands between the ADAHRS, the EMS and the displays. It outputs NMEA data to an autopilot (if installed), control codes to Garmin SL-30/40 and compatible radios, and (soon) TMAP to transponders. The onboard AHRS becomes the backup attitude source if an ADAHRS  (see below) is installed and active.
If you already have a FlightBox, you will be able to upgrade it to support the new features and functions. For those who don't have a FlightBox, you can use the FlightBox Plus, FlightBox Pro or the upcoming FlightBox EXP. The Plus model is a portable, while the Pro and EXP are built for permanent installation and can be connected directly to ship's power. (Note: permanent installation in certificated aircraft requires the Pro, which has FAA NORSEE approval.)
Functions:
Dual-band ADS-B receiver (weather, traffic)
WAAS GPS receiver
Backup Altitude
Backup Attitude
Flight data recorder
Autopilot interface w/ GPSS
COM / NAV radio interface
Transponder interface
Wireless network access point and controller
ADAHRS (4)
---
ADAHRS stands for "air data / attitude and heading reference system." It includes a set of air pressure sensors that connect to the pitot and static lines, an inertial measurement unit (gyroscope / accelerometer) for determining attitude, and a magnetometer (digital compass) for magnetic heading. If installed, it becomes the primary source of altitude, attitude, and airspeed.
We worked very hard to make the ADAHRS small, accurate, and inexpensive. You can install either one or two ADAHRS units in an aircraft. In a dual ADAHRS configuration, the FlightBox continually cross-checks between the two and alerts the user in the event of a disparity. They're cheap enough ($450 each) that most users will want to go with two. We will be be taking pre-orders starting in March.
Functions:
Air Speed
Altitude
Attitude (pitch, roll, yaw)
Vertical Speed
Outside Air Temperature (OAT)
Slip / Skid
G-meter
EMS (5)
---
We've also built a prototype engine monitoring system (EMS) that supports 4 and 6 cylinder engines, providing RPM, MAP, CHT, EGT, Oil Temp, Oil Pressure, Fuel Level (2), Fuel Pressure, Fuel Flow, Volts, and Amps. Each unit has a total of 16 thermocouple interfaces. Rather than wiring everything through a single DB-XX connector, it uses thermocouple quick-connects and screw terminals which makes it significantly easier to install and maintain.
We're expecting the second round of prototypes in March. We should have them available for pre-order in April, with delivery slated for May or June. While the final price will depend on the package of senders and probes selected, the data acquisition unit (the interface box) will retail for between $400 and $450.
Functions:
RPM
MAP
CHT (up to 6)
EGT (up to 6)
Oil temperature
Oil pressure
Fuel pressure
Fuel flow
Fuel level (2)
Volts
Amps
Auxiliary I/O (4)
Being Open
While we're quite proud of our app, we're committed to the idea of an open platform. We will be publishing an integration guide that allows 3rd party developers to add support for our hardware to their apps. This will include the real-time data feeds from the ADAHRS and EMS, autopilot integration, COM and (eventually) NAV radio integration, and transponder control.
If you have a preferred EFB app, we suggest that you contact the developer and ask them to sign up for the FlightBox EFIS mailing list. We expect to have the initial draft of the integration guide available in March.