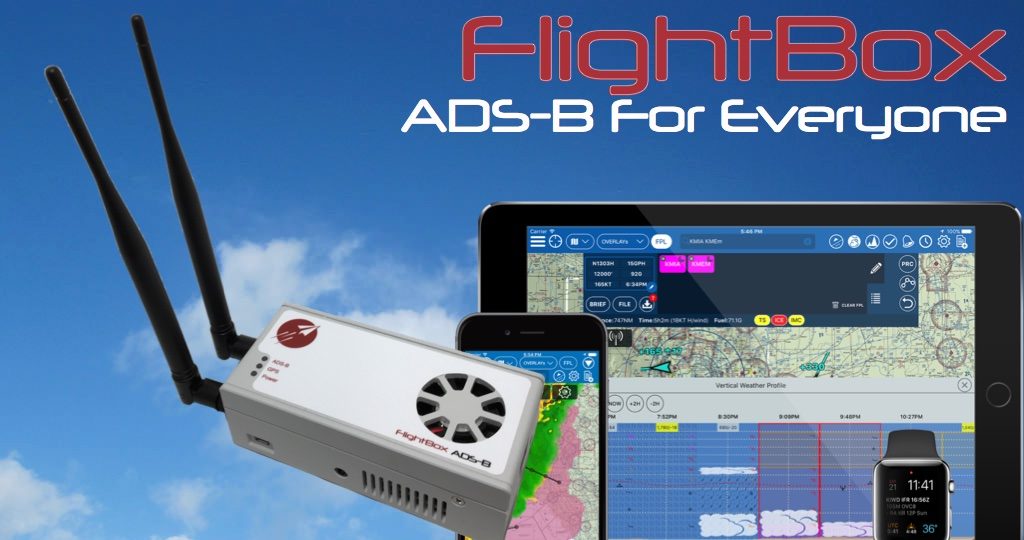 FlightBox works with most EFB applications including
Aerovie
(pictured).
| | | | | |
| --- | --- | --- | --- | --- |
| Weather | Traffic | WAAS GPS | Attitude | Altitude |
If you're a pilot, chances are good that you've heard about ADS-B. You probably know that an ADS-B receiver can make flying safer and more efficient by providing real-time weather, traffic, TFRs, and other flight data to your Apple or Android tablet. You probably also know that most of the ADS-B receivers on the market are quite expensive. FlightBox is different.
Value Leader FlightBox is built from off-the-shelf hardware and open software, making it much less expensive than proprietary ADS-B receivers. It provides all the safety-enhancing features of systems costing much more.
FlightBox ADS-B
The base model FlightBox ADS-B system offers in-flight weather, traffic, and GPS information to your favorite EFB application. You can select an internal or remote-mount GPS receiver.
FlightBox Plus
FlightBox Plus adds attitude (AHRS) and barometric altitude sensors which drive attitude, PFD and synthetic vision features in many EFB applications.
How It Works
FlightBox receives ADS-B and GPS, attitude, and altitude information from a set of receivers and sensors. It forwards that information over a wireless link to EFB applications running on tablets or smartphones.
Key Features
Subscription-Free In-Flight Weather
ADS-B Traffic
WAAS GPS
Attitude (AHRS) *
Barometric Altimeter *
Works with most aviation apps
Expandable / upgradeable
ADS-B Weather Features
NEXRAD radar (regional and CONUS)
METARs
TAFs
Winds / Temps Aloft
AIRMETs
SIGMETs
PIREPs
Additional FIS-B Products
TFRs
NOTAMs
SUA (Special Use Airspace) activity
Traffic System Features
Receives direct ADS-B and uplink ADS-R / TIS-B targets
Receives on both UAT and 1090-ES bands (with dual-band option)
Traffic Target Information
Location (latitude / longitude / altitude)
Heading
Ground speed
Vertical speed
Identity (ICAO, Registration)
GPS Features
Own-Ship location (latitude / longitude / altitude)
Ground speed
Ground track
Vertical speed
Vertical and horizontal accuracy
Attitude (AHRS) Features *
Pitch
Roll
G-force
Slip / skid
Altimeter Features *
Pressure altitude
MSL altitude (requires offset by application)
Vertical speed
Requirements
To use FlightBox, you will need a tablet or smartphone and an Electronic Flight Bag (EFB) application that can display ADS-B traffic and weather information. Please see the "Apps" tab for a list of EFB applications and the FlightBox features they support.
We highly recommend using a recent-generation tablet or smartphone. Many older devices do not have the processing power to support all the features available in today's EFB applications.
* This feature is included in the FlightBox Plus model.
The following EFB applications have been tested with FlightBox:
icon
EFB
ADS-B Traffic
& Weather
GPS
AHRS
Aerovie

√

√

√

Avare

√

√

AvNav

√ 

√ 

 

AvPlan EFB

√ 

√ 

 

Droid EFB

√

√

√

FltPlan Go

√ 

√ 

 

FlyQ EFB

√

√

√

ForeFlight*

√ 

√ 

√ 

iFly GPS

√

√

√

Naviator

√

√

√

Oz Runways

√

√

SkyDemon

√

√

True Flight

√ 

√ 

 

WingX Pro

√

√

√

Xavion

√ 

√ 

 
If you have a favorite EFB or navigation app that's not listed, let us know. FlightBox is not currently compatible with Garmin Pilot or Jeppesen Mobile FliteDeck / FliteDeck Pro.
* 
Falken Avionics is not affiliated with or endorsed by this application vendor. Interoperability has been independently confirmed by third party users of the software.
ADS-B Receiver Frequencies
978 MHz - UAT
1090 MHz - 1090-ES
Power Supply
USB (5v @ 2 amps)
Micro USB power input
3' USB power cable
Dual-port 4.8 amp USB adapter
User Interface for Configuration
Built-in web status / configuration app
iOS and Android configuration apps
Expansion Capabilities
2 USB 2.0 slots
40-pin expansion header
Enclosure
5.25" x 2.5" x 1.25" (with standard top)
5.25" x 2.5" x 1.7" (with expanded AHRS top)
Made from Boltaron aviation-grade plastic
Weight
0.5 pounds (base model)
0.7 pounds (with optional AHRS)
Antenna Interface
Cooling
40mm x 40mm x 10mm 5v DC fan
Connectivity Standards
Wifi (IEEE 802.11 b/g/n) - 2.4 GHz
RS-232 Serial (optional)
10 / 100 mbps Ethernet (special order)
Data Exchange Standards
GDL-90 over UDP and/or Serial
JSON over WebSocket
HTTP / REST configuration API
FlightBox systems include:
Dual-Band FlightBox ADS-B Receiver
High Gain ADS-B Antennas
Dual-port USB power adapter
3' (1 meter) USB power cable
Quick-start user guide
1 year warranty
AHRS + Altimeter

FlightBox Plus adds attitude (pitch / roll), slip/skid, a g-meter, and barometric (pressure) altitude to your system. The AHRS option drives the attitude and synthetic vision features in many EFB applications.

Remote ADS-B Antenna Mount

Locate your FlightBox someplace cool and out of the way with our remote antenna mount kit. It features five foot extension cables and a suction cup mount.

Glare Shield Friction Mount

Keep your FlightBox stable on the glare shield with our friction mount. Built from the same aircraft-grade plastic as the FlightBox, this mount can handle the heat.


Q) What is the difference between a "single-band" and a "dual-band" receiver?
A) In the United States (and southern Canada to some degree) there are two ADS-B systems in use: the 1090-ES system and the UAT system. All FlightBox systems are dual ban.
Q) Does the FlightBox system include a GPS?
A) Yes. Every FlightBox system includes a WAAS GPS receiver. Users can select either an internal receiver (ideal for portable systems) or a wired "remote" receiver (perfect for mounting the system someplace cool and out of the way).
Q) Where should I mount the FlightBox in my aircraft?
A) Many pilots mount the FlightBox on the glare shield either using velcro or our Friction Mount. Others prefer to mount it out of the sun and use our Remote ADS-B Antenna Mount (and optionally our Remote USB GPS or Powered GPS Antenna) to place the antennas where they receive adequate signal.
Q) Does FlightBox have a built-in battery?
A) No. Internal batteries have significant drawbacks. FlightBox systems ship with a USB cigarette lighter adapter. An external battery is available as an option.
Q) How do I power FlightBox?
A) FlightBox uses USB power. Most users prefer to connect FlightBox to their aircraft's accessory power connector (aka cigarette lighter port) using a USB adapter. The other option is a USB battery pack. Falken Avionics offers both options. If you purchase a power source from another supplier, be certain it provides at least 2 amps per USB port.
Q) Can FlightBox be permanently installed in a certified aircraft?
A) No. FlightBox is considered a portable electronic device (PED) by the FAA and is not approved for permanent installation. Our FlightBox Pro system
is
FAA approved and can be permanently installed. Please see the FlightBox Pro page for details.
For a complete set of FAQs, please see the
Support FAQ
page.