Falken Avionics is pleased to introduce the third generation of our Flight Data Computer (FDC), a major upgrade that takes the FlightView EFIS to a whole new level.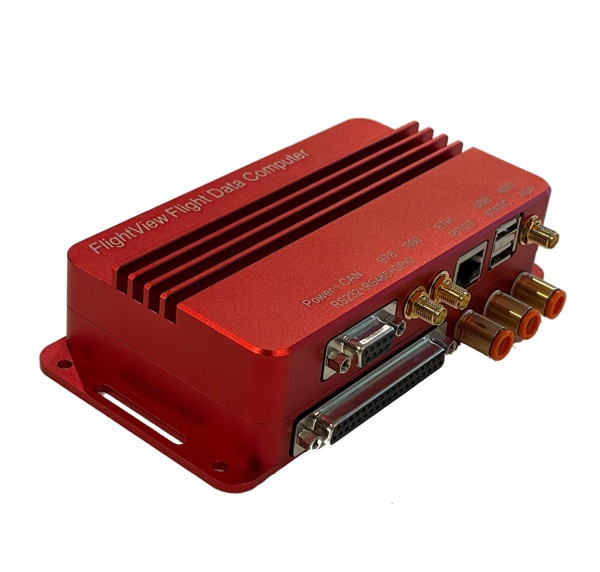 What's an FDC?
For those who are not familiar with FlightView, the FDC is the core computer system. It serves as the central hub, collecting data from sensors, receivers, and peripherals and relaying it to the iPad displays via Ethernet or Wifi. It includes the AHRS (attitude subsystem), navigation core, ADS-B receivers, and integration drivers for various peripheral devices, including GPS receivers, autopilots, COM radios, transponders, the Falken Engine Monitoring System (EMS), and the Falken Air Data Computer (ADC). The first two generations of the FDC were built on our older FlightBox Pro platform. The new FDC is a clean-sheet design featuring a much more powerful industrial-grade processor and aerospace-grade components.
Why the change?
The pandemic-induced parts shortage is part of the story – some of the parts we used in the first generation FDC are still not available – but we also really wanted to raise the bar. FlightView started out as an experiment to determine if it was possible to make a full-featured EFIS using off-the-shelf technology. The answer, it turns out, is "yes, but…" with the "but" being a series of small but frustrating compromises. The earlier design was constrained by the processing capacity and form factor of the single-board computer system we selected. Starting from scratch using a top-of-the-line industrial processor module allowed us to engineer a much more capable system with exactly the features and functions we need for FlightView.
So what's new?
Integrated Air Data
All air data features are now built directly into the FDC, eliminating the need to install a separate ADC. The FDC's air data subsystem includes inputs for Pitot, static, and angle of attack (AoA). We've upgraded the sensors to support airspeeds of up to 350 knots. The included OAT probe adds true airspeed, density altitude and ice warnings. The air pressure line inputs are standard 1/8″ NPT and can be used with traditional bent aluminum tubing or flexible PEX tubes.
More and Better Serial IO
Where the previous FDC was dependent on bulky USB adapters cables to interface with remote systems, the new unit sports a total of 11 serial ports – 2 RS-485 ports and 9 RS-232 ports. The onboard serial IO simplifies installation and reduces potential points of failure. Wiring is typically a matter of connecting two wires – a transmit line and a receive line – to the remote device. The new D-Sub connectors are less given to vibration-induced wear than USB connections. A new user interface makes it simple to assign functions to ports.
CAN Bus
The new CAN bus interfaces allow FlightView to connect directly to engines with an onboard ECU (engine control unit), giving the system – and the pilot – access to a rich set of data without the need for a separate analog engine monitor. In many cases, aircraft with these advanced engines won't require our EMS box as the CAN link provides all of the engine data required. (The few data items that aren't available via the CAN link – including fuel level – can typically be tied in using the new GPIO ports.) We're working on drivers for the Rotax iS series engines and for auto conversions. Additional CAN drivers will be added over time.
CAN is also good future-proofing. The aviation industry is slowly (glacially) adopting CAN in place of or in addition to legacy serial standards like RS232 and RS485. Having CAN capability will allow us to tie into new and innovative gear – systems made by Falken and from third party manufacturers.
General Purpose IO (GPIO)
The FDC v3 has ten GPIO inputs allowing users to connect switches (think baggage door, canopy latch, gear status), variable resistors (flap and trim position, fuel senders), rotary encoders, and other 5v analog sensors directly to FlightView. All ten GPIOs are both digital (on/off) and analog (variable voltage) capable, allowing for a wide variety of input. At launch the FlightView app will support using GPIO data for flap and trim position inputs and fuel levels. An upcoming release will add used-defined gauges and alerts which can be tied to GPIO values.
Aluminum Enclosure
The first generation FDC was housed in a plastic enclosure and required a fan to operate in warm weather. The new system includes a custom CNC milled aluminum housing which allows us to passively cool the system – no fan required. The metal enclosure also provides better protection agains electrical interference (EMI), better shock and vibration tolerance, and, with a Falken red anodized coating, it looks awesome. The unit measures 6.2″ x 3.1″ and weighs only 1 pound.
Industrial Computer
The previous FDC models have used a consumer "off-the-shelf" single board computer (SBC) to power the system. These work surprisingly well, but in the redesign process we opted to upgrade to an industrial single board computer rated for higher temperatures, higher G loads, and providing roughly 3x the processing power. The new SBC allows us to add features while at the same time increasing system reliability. We've paired it with custom circuit boards built using automotive-grade components which again raise the overall quality and reliability of the system. The resulting system is powerful, stable, and capable of operating safely in the aviation environment.
What comes with it?
Each FDC v3 will ship with a WAAS GPS receiver and a DS18B20 OAT probe.
A Connector Kit is available for $50 and includes DB-9 and DB-37 connectors, back shells, mil-spec crimp pins, and three 1/8″ NPT PEX quick connect adapters. We also plan to offer ready-made wiring harnesses in standard and custom configurations as well as an external (dorsal mount) GPS receiver upgrade.
What's it cost?
The FDC v3 is available as part of our Lite, Core, and Ready-To-Fly kits. The Lite kit retails for $2500, the Core kit for $3000, and the Ready-To-Fly kits start at $4000. This is a bit of an increase, but keep in mind that the new platform adds several key features and eliminates the need to purchase separate FlightLink cables ($50 – $150 each) to connect to autopilots, radios, transponders, and other peripherals.
I already have FlightView installed. Can I upgrade?
Yes, we will be offering an upgrade package to every Falken customer who has purchased a FlightView system with a previous-generation FDC. Contact us for details.
Great, when can I get my hands on one?
We're officially launching the new system at AirVenture 2023 and plan to begin shipping in mid August. You can order a FlightView system with the new FDC on our web store starting today.