At least once a week somebody sends me an email about an ADS-B traffic target that suddenly appeared on their EFB app, often just a hundred feet above or below, and less than half a mile behind. The reporter is never able to spot the target, which appears to doggedly follow them for a few minutes before disappearing. No, this is not a UFO or a new stealth drone. It's just an annoying (and occasionally panic-inducing) artifact of the way ADS-B works.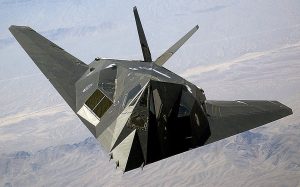 If you're being chased by ghosts, don't worry – you're not alone. It's not an issue that's specific to FlightBox or to whatever EFB app you're using. Every ADS-B In system occasionally displays a ghost, even for those of us equipped with ADS-B Out. Here's what appears to be happening:
You're receiving ADS-B traffic data from the FAA ground towers. Those towers are receiving data from secondary surveillance radar. The radar data is collected at various center and terminal radar sites and sent to the towers for processing and broadcast. The software in the towers use the "hockey puck" algorithm to determine what traffic targets get broadcast.
Apparently, the delay between the time the radar site picks up a target and the time it arrives in your cockpit can vary quite a bit. Most of the time your EFB is able to determine which of the various targets it's receiving is your aircraft (often referred to as "ownship") which it filters out. But if the latency (time lag in delivery) is too great, the software can't be absolutely sure if a given target is really "you" so, so it displays it – frequently with a traffic conflict warning.
Theoretically, this shouldn't happen with aircraft that are equipped with ADS-B Out. Each Out-equipped aircraft broadcasts a unique identifier (ICAO code) which should allow both the towers and your local software to filter it out, preventing ghosts. But even the towers sometimes can't correlate between your radar target and your position as received directly from your ADS-B Out transmissions. They fall victim to the same latency-induced issues that plague your EFB. Rather than take a chance on miss-reporting a conflict, they rebroadcast the radar data as an anonymous target which suddenly appears on your screen as a ghost.
The ghost effect appears to be worse when you're in an area covered by multiple radars and multiple ADS-B towers. In talking with ADS-B experts, it does not sound like there's any obvious fix for this. Lower latency links between the radar sites and the ADS-B towers can help, but even that's not a guaranteed fix. As we get closer to 2020 and more aircraft are equipped with ADS-B Out, it should get better. Until then, don't panic every time a mysterious traffic target appears on your screen. But don't ignore it, either – that way lies midair ugliness.