Low Cost Safety-Enhancing Technology Now Available To Everyone
When we launched on Kickstarter back in February we declared the beginning of a Kit Avionics Revolution. Since then we've sold over 1200 FlightBox kits to pilots all over the world. In so doing we've learned a lot about ADS-B and about the aviation market. The Kit Avionics Revolution has been a huge success for us, but one of the more important things we've discovered is the range of technical aptitudes and interests in the flying community. While many pilots relish the opportunity to get hands-on with their systems, others prefer something a bit more finished.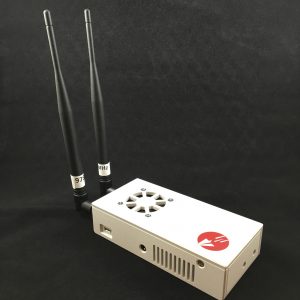 In order to serve those who just want to buy and fly, we're pleased to announce the availability of the FlightBox FB1X – a fully assembled and tested dual-band ADS-B receiver with all the features of the original FlightBox kit. The assembled version includes high-gain antennas, a 12v/24v USB power adapter, and a one year warranty. It is compatible with all of our add-on products: the remote GPS, remote antenna kit, friction mount, battery, etc.
We've know that we were missing out on a segment of the market for some time. I'm very proud to say that we took our time and did this right. The FB1X is fully FCC certified. It has been tested over the course of more than 30 flight hours and under a wide range of conditions. It ships with version 1.0r1 of the Stratux software (updates for existing FlightBox systems will be release shortly).
The list price for the assembled FlightBox dual band receiver is $325. To celebrate the launch of our first turnkey product we are offering a $25 discount through the end of October. Our goal is to be the value leader in ADS-B, and at $300, I think we're hitting the mark.
If you have any pilot friends who have shied away from FlightBox due to the "DIY" nature of the kit, please let them know that we're now ready for them. They can order the FlightBox FB1X from our web store today.